Protecting the domestic market for Vietnam's mechanical industry
In order to build and protect the domestic market for mechanics, the State must quickly issue and direct the use of technical barriers and origin of goods as other countries have been actively implementing. It is necessary to consider the equality of investment incentives between domestic mechanical enterprises and FDI enterprises…
Protecting the domestic market for Vietnam's mechanical industry (photo: internet)
The Covid-19 epidemic, which has lasted from May to now, continues to affect important industries, fields and areas, some industrial parks, where a large number of workers are concentrated, and there are businesses in the value chain. global value, contributing greatly to economic development, was temporarily suspended, greatly affecting supply chains and production and export activities. Meanwhile, the prices of some raw materials have increased sharply, international shipping charges have increased sharply, and export markets have used technical measures to limit imported goods, including imported goods. Vietnam… has caused many difficulties for production and business activities in general and the mechanical industry in particular.
From the end of September 2021, the epidemic situation has improved, but the restoration of production under "new normal"; conditions in the spirit of living with the epidemic will take many months before it can return to pre-existing levels.
According to the General Statistics Office, the machinery and equipment manufacturing index in September 2021 increased by 23.1% compared to August 2021 but decreased by 17.9% compared to September 2020. In the first nine months of this year, an increase of 4.4% over the same period in 2020.
High-yield mechanical engineering supporting industry products include: Other DC motors and DC generators; DC motor with capacity ≤ 37.5 W; Machines and other mechanical equipment with separate functions not elsewhere classified. In which, the localities with high production output include: Dong Nai, Ho Chi Minh, Da Nang, Binh Duong.
In September 2021, output of most supporting industry products decreased compared to the same period last year, of which: Other DC motors and DC generators plummeted by 90.17%; Other generating sets decreased by 48.59%; Machines and other mechanical equipment with separate functions, which have not been classified, decreased by 42.42%; Other power transformers with capacity > 16 kVA but ≤ 500 kVA reduced by 39.41%; DC motor with capacity ≤ 37.5 W reduced by 26.61%. Meanwhile, the output of rotary converters increased by 70.5%.
Generally, in the first 9 months of 2021, the supporting industry products of the mechanical engineering industry with increased output compared to the same period in 2020 are: Electric transformers using liquid dielectrics with a capacity of no more than 650 KVA, an increase of 38.25 %; Rotary power transformers increased by 18.83%; DC motor with capacity ≤ 37.5 W increased by 3.93%. On the contrary, some products have reduced output such as: Other DC motors and DC generators decreased by 15.41%; Other power transformers with capacity > 16 kVA but ≤ 500 kVA reduced by 12.12%; Machines and other mechanical equipment with separate functions, not yet classified, decreased by 0.77%; Other generating sets decreased slightly by 0.45%.
Table: Output of some mechanical engineering products in September and the first 9 months of 2021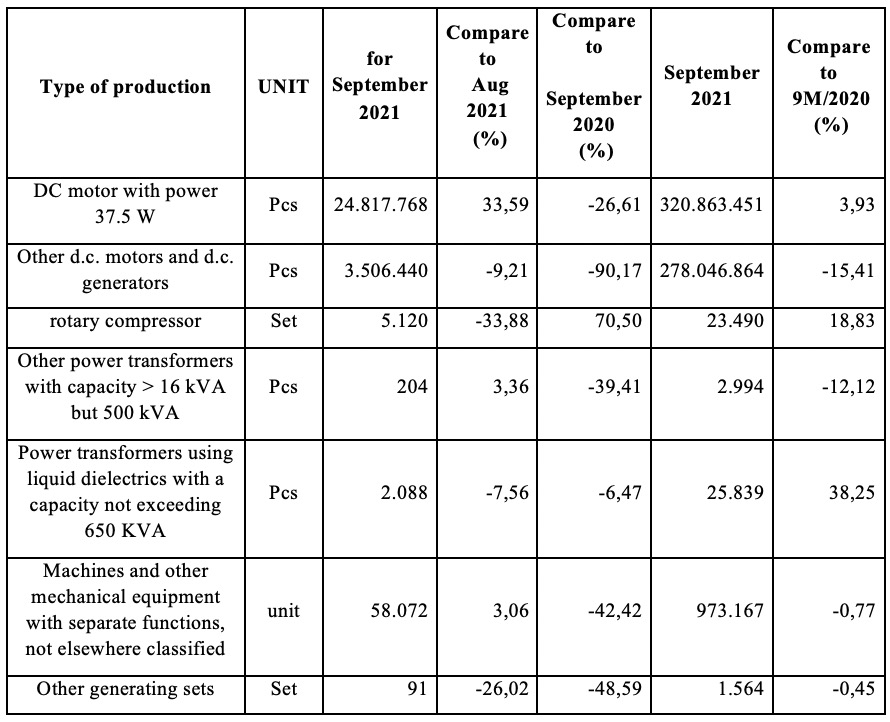 Source: Synthesized data from t​he Bureau of Statistics
According to the Vietnam Association of Mechanical Enterprises (VAMI), on average, over the past 5-10 years, Vietnam often imports about 40 billion USD/year of equipment, machines and production materials from abroad for the whole industry. Economic activities include industrial production, agriculture, infrastructure construction, services and national security. It is a fairly large market that many countries want to have but cannot. However, Vietnam's domestic mechanical engineering industry does not have much market share, must be self-reliant in an incomplete market mechanism with many shortcomings and has not received effective support from the state's policy system to has many orders from public investment like other countries. As a result, our country's domestic mechanics lacked orders and lost at home. The cause of this situation is due to both the policies and mechanisms of the State and the weak management of domestic mechanical enterprises in Vietnam.
In the coming time, Vietnam will implement many important national projects with a large total investment such as: Power planning in 8 phases from 2021 to 2030 about 133 billion USD, high-speed railway 50-60 billion USD. , Long Thanh international airport, inner city railways, traffic works, irrigation, oil and gas, marine economy, shipbuilding, cars, motorbikes… Accordingly, the State should strictly regulate the reasonable ratio in the volume and value of the project to ensure that domestic mechanical enterprises participate as international practice, so everything should not be bought from foreign countries. in addition to encouraging technology transfer to do it yourself. Thus, large mechanical enterprises can participate.
When surveyed at Truong Hai Automobile Joint Stock Company, Gia Lam Railway Joint Stock Company of Vietnam Railways Corporation, these enterprises said that in addition to passenger cars and freight cars for the national railway, houses the machine can completely build the light wagons for urban railway (metro) by itself if required. And recently, the global supply bottleneck lacks public; for transport ships, domestic mechanical enterprises can completely handle. The State can also give tax incentives to shipbuilders and support new shipbuilding policies for transport businesses to participate in the export-promoting logistics market when the market is large enough. fast growth. Do not let this market share almost be given to foreign countries without being able to take the initiative.
In addition, our country needs to strictly control the issuance of certificates of origin for exports from Vietnam/ASEAN in association with the localization rate in both the FDI sector as well as in domestic mechanics to avoid price transfer. In FDI enterprises, they increase the value of domestic production when they do not meet the requirements to enjoy preferential policies of the state.
It can be seen that the domestic market of Vietnamese mechanics is not small. The problem is that domestic mechanical enterprises and the government must find ways to build and protect the domestic mechanical market and consider it as a valuable resource of the country.
After more than 3 decades, Vietnam's domestic mechanical industry has produced a number of product sub-sectors with competitive advantages in the country and in the region. These are the sub-sectors of products for manufacturing steel structures, manufacturing non-standard goods, manufacturing a number of machines, equipment, and spare parts to serve the needs of the electricity, oil and gas, mineral extraction, and material production industries. construction materials, manufacturing a number of farming machines, processing and preserving agro-forestry-fishery products, assembling cars, building ocean-going ships, passenger and water-transportation ships, treating the environment and manufacturing some goods. consumption to serve the people… but added value and low efficiency. In order to have many mechanical products with a high localization rate and high technology content, the State definitely needs special support policies, tax exemptions and reductions for businesses that can do this. Domestic production. Since then, new Made in Vietnam mechanical products have had the opportunity to participate in the supply chain in the market. Vietnamese workers, and new mechanics have the opportunity to grasp the trend of modern mechanics and achieve high income.
In order to bring into play the internal resources of mechanical enterprises, improve the localization rate, develop the mechanical industry as well as consolidate and promote the experience of experts, managers, machinery and equipment, the State There should be an incentive mechanism so that these units can continue to participate in big projects in the coming time. If successful implementation of a few projects, enterprises will accumulate enough capacity to compete with foreign industrial groups in Vietnam as well as reach out to the regional market.
In order to build and protect the domestic market for mechanical engineering, the State must quickly issue and direct the use of technical barriers and origin of goods… as other countries have been actively doing. It is necessary to consider the equality of investment incentives between domestic mechanical enterprises and FDI enterprises. The State needs to create many public investment orders through bidding for domestic mechanical engineering enterprises. Investors of large-scale public investment projects in Vietnam must have an appendix specifying the tasks for domestic enterprises participating in the bidding to perform.
Author: General editorial board